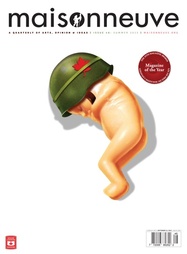 Prepare to grin, grimace and grump: this article has it all. 
Given that the article published in the arts and opinion magazine Maisonneuve was nearly a year in the making and given that NCLN staff were interviewed, we were interested to see what the authors would say about Canada's Pro-Life Movement.  It's a mixed bag, but certainly an interesting read.
The lovely ladies of ProWomanProLife have responded, calling out the authors for their assertion that "strict physicians' guidelines cap abortions at twenty-four weeks" (those guidelines are found where exactly?). 
And Faye Sonier 'howls with laughter' at the comment that pregnancy centres are notoriously litigious:
"Yes, those crazy pro-lifers and their buckets of money – money collected from ye olde money tree in the parking lot.  Money that they then throw at their team of lawyers.  Lawyers they keep on retainer and on-call, to address any perceived slight.  Yes, that sure sounds like the reality of non-profit and charitable organizations everywhere.  And to support their claim, they provide a single example."
 Indeed.
But we do appreciate that the authors consider Canada's young pro-life leaders to be "camera-ready spokespeople – twentysomethings who seem more like news anchors than activists".  (It's nice to know we have a future in broadcasting after we end abortion.)  There were even some complimentary remarks about NCLN as 'polished' and 'media-savvy'.  That said, we have no idea what or how NCLN, as they allege, "encourages members to collectively blog their outrage when conflicts arise."
 You can read the full article here (and collectively blog your reactions thereafter?).